SERVICES & EXTRAS

Crisp weather, lovely conditions... Autumn Tennis offers some of the year's the best playing!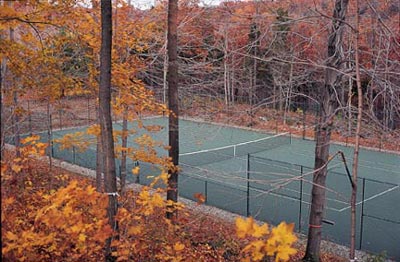 Our regular customers count on Putnam to blow leaves off the court, brush it and roll it to keep it playable as long as the weather holds. There is still wonderful tennis weather ahead. Don't miss any of it!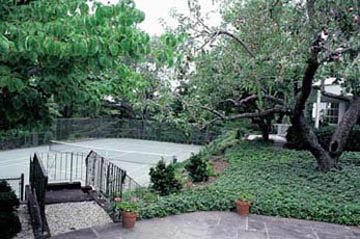 Landscaping Design Services
No doubt in anyone's mind, landscaping enhances your environment, whether viewed from indoors or out. Call us to discuss your ideas.
Court Servicing

Court Opening and Closing,
Repairs
Off-Site Equipment Storage
Weekly, Bi-Weekly and Seasonal Maintenance
Emergency Services
All tennis courts require some type of annual maintenance. While many tennis courts can be managed during the season by homeowners and the regular maintenance crews at clubs and schools, annual professional reconditioning is important for durability and to maintain a fine playing surface. In fact, Putnam's extended guarantee, five years for Fast-Dry and OmniCourt surfaces, depends on our regular annual maintenance.
We notice that both Fast Dry and Red Clay Courts suffer midway through the season. Courts that get heavy use need some extra attention, especially more intensive grooming, watering and rolling than the average court owner may care to spend. We offer midseason visits, usually one in both july and August. Or, if you prefer, we will maintain your court on a weekly or bi-weekly basis. Call us at 860-485-1567 for a quote.

Sprinkler Systems
Fast Dry and Red Clay courts should have watering systems. Six-head systems on automatic timers have proven to be the most reliable in the Northeast in terms of court surface, convenience and controlled water usage.
In windy regions, we recommend stainless steel in-ground heads raised slightly above the court Sprinkler surface to prevent clogging. In less exposed areas, the more familiar post-mounted nozzles work well. Steady water pressure at courtside is essential to evenly dampen the surface as well as the base to prevent washouts and to provide a gentle cascade.
Putnam, in conjunction with the manufacturer, installs a sub-surface watering system called HydoCourt. This system is expensive to install, but is very economical in water usage and control. Not only does it add water evenly to the court, it has the added feature of, when reversed, helping to remove excess water. Because winter freezes are a hazard to outdoor piping and because the controls are delicate, we recommend this system only when it can be monitored and maintained on a daily basis.

Lighting
Busy individual court-owners, as well as Tennis Clubs benefit from the extended playing time that Lighting adds to tennis or basketball courts. Precious playing time is no longer limited to daylight hours. Lights extend the usability and the enjoyment of your court.
Tennis Court Extras
Practice Boards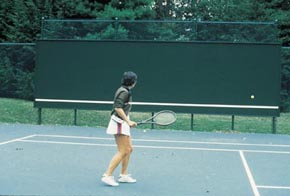 A welcome addition for clubs and individual court owners alike. The standard one is sixteen feet long with a "plyron" surface. This is a strong and durable wood with a laminate finish. The board is painted dark green on both sides with a white playing line on the front. Vertical posts match the fencing and the horizontal braces are of pressure-treated lumber for a sturdy, durable frame.
Installed along the side fence during court construction, a 16' board costs slightly over $3,500. Double-size boards are also available, as are custom sizes to meet any requirements.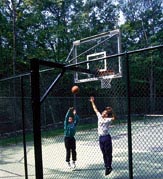 Basketball Hoop System
Putnam's customers take tennis seriously, but many, especially those with active families, like to be able to shoot baskets on the court, too.
We recommend two different sytems, both professional and both good-looking. The competition model, "Big Shot" Basketball System has a clear acrylic backboard and an easily adjusted height mechanism.
The "Super Six" Basketball System also has the clear acrylic backboard, but it is not adjustable.
Volleyball
If team efforts are your "thing", we also install volleyball equipment. Standard volleyball posts, available in green or black, are set in below-ground sleeves so that the system can be set up or taken down easily. Standard net is a 2.5mm braided polyethylene with reinforced sides and bottom and a heavy-duty 28oz vinyl headband with either a rope or steel cable.
Personalized Windcurtains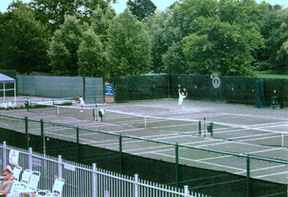 Your Club or School Logo would look great on your wind curtains.
Here's the finishing touch for your court that makes it "just so". We hand paint your logo onto the wind curtain (NOT spray it through a stencil) so the edges are crisp and clear and the logo looks great from either side of the screen.
Prices will vary according to the number of colors and the intricacy of the design, but it is a lovely and inexpensive way to customize your court. Owners of private courts may opt for their initials or a discreet monogram. Call Putnam today!



Member of US Tennis Court and Track Builders Association
Putnam Tennis and Recreation, LLC.
PO Box 96, Harwinton, Connecticut 06791
If you're a Player, you play on a Putnam.
Please call Sales Manager, John Reidy
for sales and inspections, current prices
or to ask for our brochure.
1-800-678-2490
1-860-485-1567